CCC Group in Q2 2023: CCC's EBITDA margin at 21%, strong sales growth (86%) at HalfPrice maintained, and capital of PLN 253m unlocked as a result of rightsizing inventory levels at MODIVO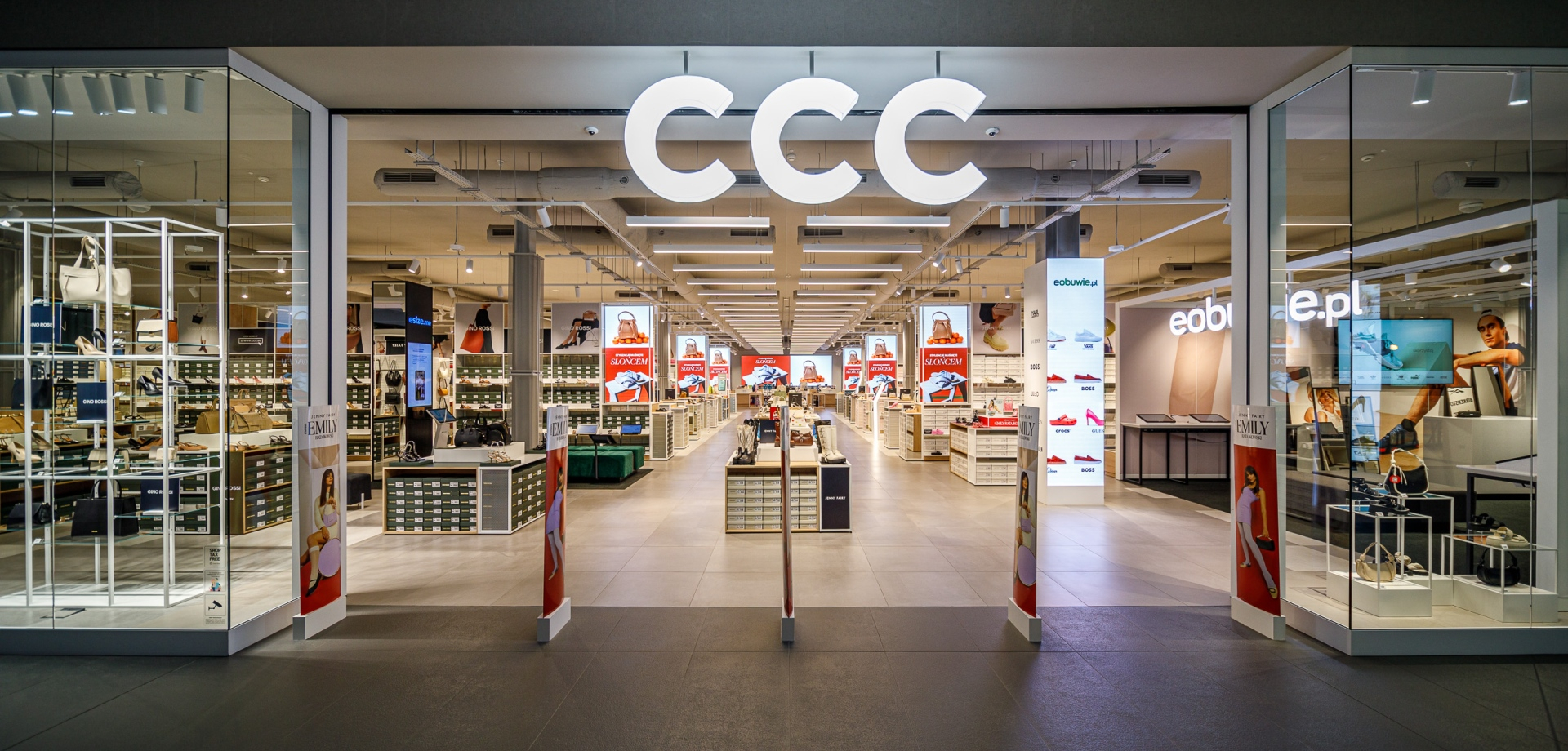 Despite the challenging macroeconomic landscape and last-year's high base attributable to the influx of Ukrainian refugees, the CCC Group posted revenue of PLN 2.4bn in the second quarter of 2023 (May-July), close to last year's figure. The Group maintains a very high share of e-commerce in sales, at 52% (+2.6pp year on year), consistently outpacing market trends.
In the previous quarter, the CCC business line achieved a robust EBITDA margin of 21.2% and consistently decreased costs despite an inflationary business environment. HalfPrice was launched on its 9th market, maintaining a solid sales growth momentum (+26% quarter on quarter). Its revenue surged by almost 86% year on year, with retail space expanding by 49% year on year. Sales generated by the Modivo segment rose by 39%, boosting Modivo Group's revenue (PLN 1.0bn, +4% year on year). Furthermore, the Modivo Group reduced its inventory levels by PLN 253m quarter on quarter.
During the second quarter of 2023 (May–July), the revenue posted by the CCC Group remained roughly unchanged year on year (PLN 2.4bn), against a high base last year attributable to the influx of Ukrainian refugees.
An attractively priced, high-quality offering available in an innovative omnichannel model contributed to sustaining a significant share of e-commerce in the CCC Group's sales, at 52% in the second quarter of 2023.
"Our principal objective is to achieve significant and sustainable enhancements in profitability," said Dariusz Miłek, CEO of the CCC Group. "The business landscape is gradually becoming more favourable to us – we are witnessing the first signs of consumer sentiment recovery, the domestic currency is strengthening, and the costs of energy and freight are stabilising at levels seen before the previous year's surges. We hope that this trend will persist. We are now maximising our efforts across all business lines to make the most of this moment – as previously mentioned, the second half of the year will be pivotal for achieving our performance targets. We are well-prepared for the upcoming back to school and office period. Concurrently, we are consistently trimming our cost base – in the last quarter alone, we achieved a 9% reduction within the CCC business line alone, and we continue to actively pursue additional cost-saving opportunities across every business line. We are steadily deleveraging our operations to cut finance costs and obtain favourable refinancing terms and conditions. I am confident that these efforts, coupled with new partnerships focused on margin maximisation, such as the recently announced collaboration with Authentic Brands Group regarding the Reebok brand, will bolster our long-term profitability growth.
In the second quarter of 2023, the CCC Group delivered operating profit of PLN 72m (+131% year on year), with EBITDA of PLN 221m (+23%), while EBIT and EBITDA margins came in at 3.0% (+1.7pp year on year) and 9.1% (+1.6pp year on year), respectively.
CCC
In the second quarter of 2023, revenue delivered by the CCC business line remained affected by last-year's high base and weaker consumer sentiment. Nevertheless, online sales of this business line grew steadily, to PLN 286m, and accounted for 28% of its total revenue (+8pp year on year and +3pp quarter on quarter). CCC is consistently developing an omnichannel customer contact model. While leveraging solutions and technologies to constantly enhance the online shopping experience, incorporating engaging content and applying convenient payment and delivery methods, it is building a deeper integration between the offline and online channels. This makes customers more loyal and more willing to return to brick-and-mortar stores, the ccc.eu online store or the mobile app.
In the second quarter of the year, the business line delivered a gross margin of 55.5%, up 3.7pp on the previous year, driven in part by the ongoing working capital optimisation – in the second quarter of 2023, CCC's inventory levels went down by 34% year on year. The implementation of cost-saving programmes further reduced (for the fourth consecutive quarter) both selling and administrative costs by over 9% compared with the previous year.
"Today, CCC stands as the most mature business line within the CCC Group. It boasts a great team, a well-developed omnichannel model, and a stable chain of brick-and-mortar stores seamlessly complemented by digital sales and, above all, it has a very attractive product offering for the upcoming autumn season. All this provides a basis to demonstrate robust profitability in the second half of the year," said Karol Półtorak, Vice President of the Management Board of the CCC Group for Development, Customer and Digital. "Despite high inflation, we are consistently trimming CCC's cost base at each level. Thanks to these efforts, in the last quarter CCC was the most profitable business line within the Group.
Consequently, in the second quarter of 2023 CCC's EBITDA improved 85% year on year and came in at PLN 220m, while its EBITDA margin stood at 21.2% (+11.1pp year on year).
HalfPrice
HalfPrice continues its rapid growth. In the previous quarter, the business line entered its ninth market, Latvia, further increasing its network to encompass a total of 109 stores. While expanding its operations, HalfPrice maintains robust sales growth rates. In the quarter under review, the business line achieved revenue amounting to PLN 338 million, marking an impressive 86% year-on-year increase, with a retail space expansion of 49%. Improved conversion and a higher average receipt value supported continued growth in like-for-like sales (31% year in year).
"In the first half of 2023, HalfPrice particularly shows how important it is to the CCC Group's business model. A globally unique ecosystem combining full-price and off-price channels strongly contributes to the reduction of overstocking at Modivo Group," Łukasz Stelmach, Managing Director of Finance at CCC Group, said. "Naturally, this does have an impact on the gross margin, but it is a temporary process."
With costs at HalfPrice growing at a much lower rate than revenue, the cost ratio in the second quarter of 2023 fell by 7.8pp year on year. The business line delivered a positive EBITDA of PLN 6.2 million.
MODIVO GROUP
In the second quarter of 2023, the Modivo Group implemented the key stage of migration to a new e-commerce platform. Today, this infrastructure is used in 14 of the 18 markets where the Company is present, including Poland.
Supported by the development of marketplace, the Modivo segment is becoming an increasingly important part of the Modivo Group. In the second quarter of this year, the business line's revenue went up 39% year on year, translating into an increase in sales recorded by the Zielona Góra-based Group (PLN 1 billion, +4% yoy).
Modivo Group's performance in the past period was also significantly affected by the challenging competitive environment.
"Consumer power, although still low, is gradually recovering. This is why we are intensifying our efforts to make the most of the moment when customers will be more willing to buy and look for quality products," said Marcin Czyczerski, CEO of the Modivo Group. "We have already migrated 84% of our business to the new platform. Thanks to the transformation we gained the ability to further expand the platform with new functionalities and facilities for our customers, and we are doing it all using our own resources. This creates for us prospects of generating higher sales at a lower cost, and thus higher profitability.
In the second quarter of 2023, the Modivo Group also worked hard to reduce its working capital investment. Maximising the resale of summer products during sales, optimising the warehouse receipt process and the retail calendar, as well as changing the purchasing process and order structure (pre order vs open to buy), or AI-based allocation are just a few of the many tools implemented for this purpose. The Modivo Group is also actively taking advantage of the synergies provided by the CCC Group ecosystem, including merchandise transfers to the off-price channel. The implementation of a group OMS (integrated stock) with CCC is also planned to be completed by the end of the year.
"We are successfully reducing accumulated stocks, which are a challenge for the entire multibrand e-commerce industry today. This quarter alone we unlocked PLN 253 million worth of inventory. By the end of the year we want to destock to below PLN 1 billion," adds Marcin Czyczerski. "This will allow us to significantly support the process of returning to a path of profitable growth."