HalfPrice first in Poland to launch campaign co-created by AI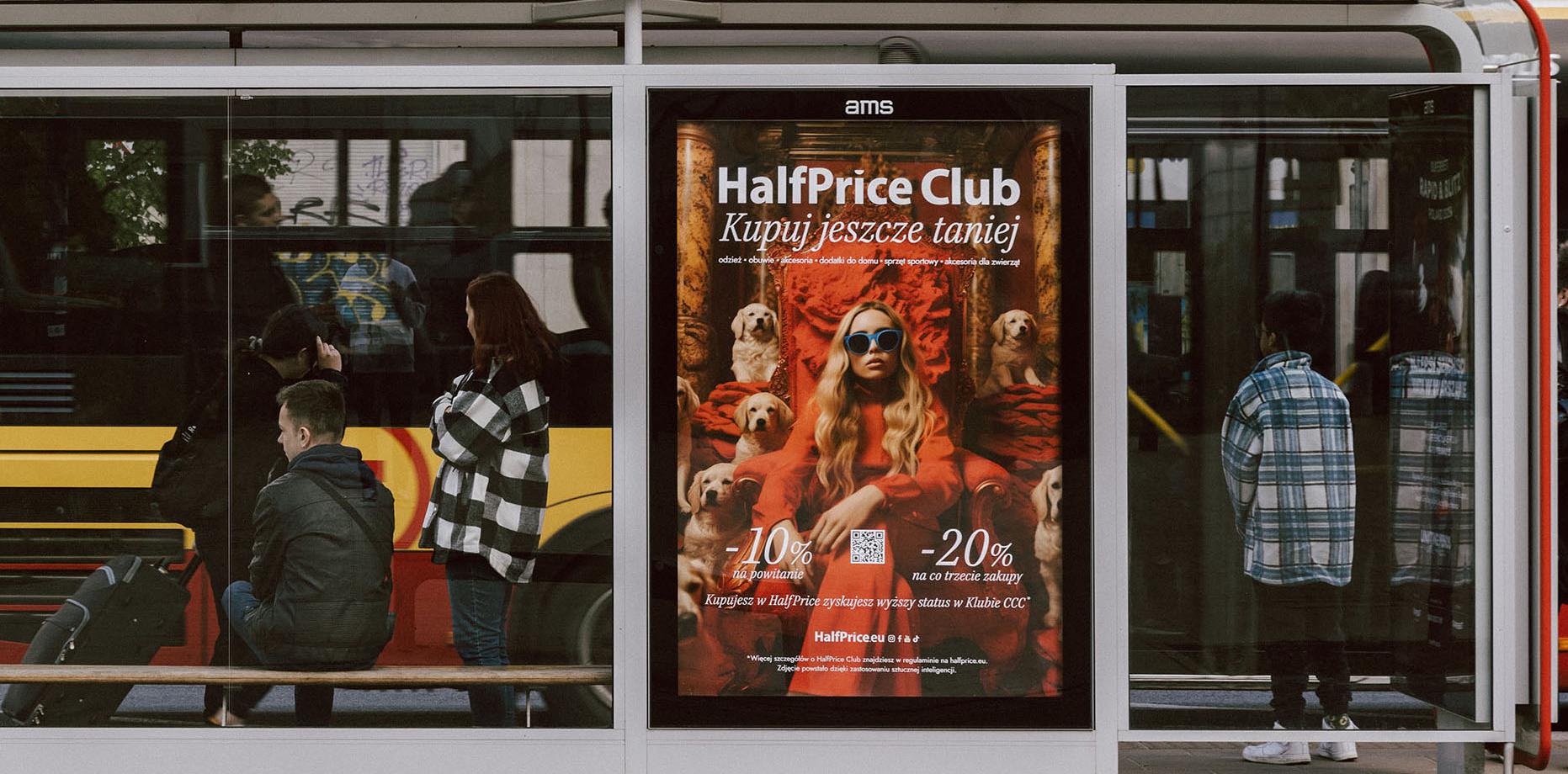 This spring, HalfPrice, an off-price chain owned by the CCC Group, is launching a pioneering advertising campaign that uses images created by artificial intelligence. This is the first project of its kind in Poland. The campaign not only showcases the HalfPrice Club, but also the opportunities that artificial intelligence presents to marketing departments.
HalfPrice's latest campaign has an unconventional format that Polish customers have never seen before as its visuals have been created with the help of artificial intelligence. A pioneering project that uses AI in marketing activities is setting new directions for the development of customer communications.
"The AI-generated images for the latest campaign of the HalfPrice Club look absolutely extravagant – they are simply impossible to pass by indifferently. They not only create a "story" about our club, but also convey the emotions characteristic of the brand: excitement, fascination and fun. Since its launch, HalfPrice has been a brand with a very distinct character. This campaign just had to happen," says Michał Kniaź, Marketing Director at HalfPrice. "For us, the marketing department, this is also a test of how AI can support our daily work. The first results have gone beyond our expectations. The speed or the flexibility offered by artificial intelligence offer us many possibilities for even more quality communication with the customer in real time."
The new campaign promotes the HalfPrice Club as a great place for enthusiasts of global brands and bargain hunters. Members of the Club will find gems from well-known brands in categories such as clothing, footwear, accessories,toys and home furnishings and accessories. Everything even up to 80% off. Members of the Club also have access to additional special offers, and are the first to learn about exclusive campaigns and promotions. Each new member of the Club receives a 10% discount to start, and then a 20% discount on every third purchase for PLN 100 or more. Importantly, when buying at HalfPrice, the Club members also gain benefits at the CCC Club. It is the members of the HalfPrice Club who are the characters represented in the AI creations.
"Needless to say, we treat AI as complementary to our existing tools and collaborations. Today we are at the very beginning of using AI in the work of marketing departments. We still have a lot of work to do here – in terms of AI as a tool, but especially in terms of our Teams' development. Already today we see the need for a whole range of new competencies – from analytics to the creation of prompters. I believe that many of the skills that will soon be needed we don't even know about yet," adds Michał Kniaź. "AI is for us an exciting adventure that requires attention, good judgment, humility, but also openness and curiosity. Artificial intelligence has arrived, we cannot stop these changes. Already today, we are learning to work with it, because we want to gain a good understanding of its capabilities, have a say in shaping how it is used, and take advantage of the opportunities it presents to us. Importantly, we make sure our communication with the customer is transparent – on each image generated by AI we put a notice to that effect."
The HalfPrice campaign will run in the coming months in all social media channels of the brand, OOH and digitally.