Record revenue, international expansion and further omnichannel roll-out – CCC Group summarises second quarter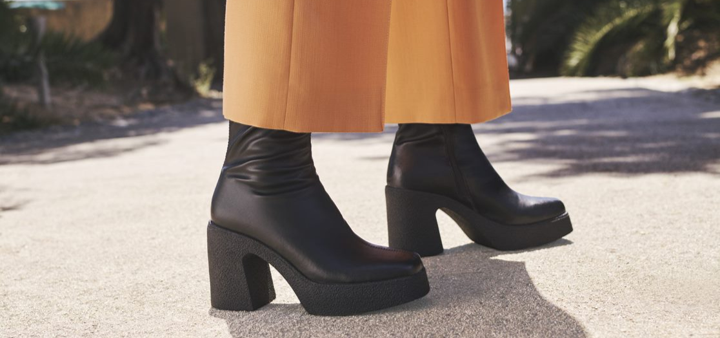 The CCC Group is closing the second quarter of the financial year 2021 (May–July) with the best ever quarterly sales of PLN 2bn (up 41% year on year). Accounting for nearly half of that figure (43%) is revenue from e-commerce channels. All the Group's brands, both offline and online, contributed to the strong sales result. The Company's youngest format, HalfPrice, is also growing fast. A chain of 30 off-price stores has been rolled out in Poland, Czech Republic, Austria and Hungary in just five months. 
- The second quarter of our financial year 2021 was the best period in terms of sales in the Company's operating history - says Marcin Czyczerski, President of the CCC Management Board. - We are consistently strengthening our product offering, enhancing our sales channels and customers' shopping experience. As a result, we have recorded revenue growth in the offline network, while also maintaining strong growth in e-commerce. This demonstrates we have perfectly seized the moment to digitalise our business and have accurately anticipated market and consumer trends.
In the second quarter of the financial year 2021 (May–July), the CCC Group reported sales of PLN 2bn, a 41% increase year on year and a 5% increase on the second quarter of 2019. The growth was driven by customers' return to offline stores, continued strong growth in online sales and a very strong start of the new HalfPrice chain.
A wider gross margin (up 2.2pp year on year) and cost discipline contributed to a strong EBITDA margin of 11.3% reported by the CCC Group for the period. 
-The CCC Group is closing the first half of the year with strong revenue and a stable financial position. We are set to further reinforce the value of our organisation and invest in its growth - says Kryspin Derejczyk, Vice President of the CCC Management Board, Finance and Accounting.
The Company has been consistently strengthening its omnichannel ecosystem, having launched online sales in new markets (including Russia). Selected products have been launched on marketplace platforms such as Allegro, Wildberries, Zalando, and Kasta. The Group currently operates over 90 online stores in 19 countries, which is reflected in its revenue structure. Online sales accounted for 43% of the total (up 3.6pp) in the three months ended July 31st 2021. In online, worth noting is the strong sales growth delivered by Modivo (up 95% year on year), ccc.eu (up 44% year on year) and DeeZee (up 80% year on year).
Sales delivered by the eobuwie.pl Group's key e-commerce engine came in at PLN 805m in the three months to July 31st 2021 (up 55% year on year), with EBITDA margin at 7.8%. Eobuwie.pl also recorded stellar foreign sales. Its revenue increased 78% in Greece, 88% in Germany and 167% in France. Strengthening its foothold in key geographies, the Group continues to build its position in promising markets by investing in marketing, marketplace and product range expansion and scaling its logistics capabilities. The innovative offline formats of eobuwie.pl and MODIVO have been very well received by customers. In July this year, the company launched its first hybrid store in the Czech Republic, marking the start of the chain's international expansion.
Rapid business growth of the CCC Group
Strong products, cutting-edge, efficient and constantly expanded sales channels, logistics, modern marketing, innovative services for customers and the ability to attract top talent – these are the pillars on which the CCC Group is consistently building its competitive advantage.
In line with the latest global trends, the collections are manufactured and marketed with due care for the environment and have their own unique character. What is more, the brand portfolio is constantly being expanded by adding new iconic brands. The new brands launched in the Group's sales channels during the autumn-winter season included Badura. Supporting the fashionable collections are originally designed and uniquely atmospheric marketing drives. 
-Our focus at the CCC Group is on communication with customers. We have a 360-degree marketing plan. What is important, we carefully formulate the message and select communication channels for each generation of our customers, including the distinctive Generation Z. Today, we are excellently placed in terms of our product mix, communication tools and operational capabilities to reach every customer group - adds Marcin Czyczerski.
Also with customers in mind, the CCC Group consistently rolls out innovative services for enhanced shopping experience. As the first retailer in Poland and a pioneer on the European market, CCC has recently offered deferred payments at its offline chain stores. With the PayPo service, customers can take purchased items home and pay after 30 days. As part of the offline channel's digitalisation, in-store e-kiosks have been made available at 750 CCC outlets across Central and Eastern Europe, enabling access to an extensive online offering. In addition, the CCC Group's equity interest in Xpress Delivery is supporting expansion of the CCC Express fast delivery service. In 37 cities throughout Poland, shoes and accessories ordered online can already be delivered from store to customer within just 90 minutes. Same day deliveries are also available to eobuwie.pl customers in 12 Polish cities. In the coming months, they will be launched in other countries and offered to MODIVO customers.
Expansion beyond Poland is the development direction for a majority of the CCC Group's sales channels and services. CCC.eu has been launched this year on six markets: Russia, Bulgaria, Greece, Croatia, Slovenia and Ukraine. The platform is already available to customers in 12 countries. The esize.me service has recently been brought via the eobuwie.pl mobile app to consumers in Bulgaria, the Czech Republic, Greece and Hungary. HalfPrice, the Group's newest concept, is already present in four countries, and will debut in Croatia by the end of this year.

The CCC Group is growing in strength, also by tapping the market for top talent. Early this month, the Management Board was joined by Adam Marciniak, one of Poland's most experienced managers specialising in technology and digital transformation of businesses. Damian Zapłata took over at the helm of eobuwie.pl as the new President of its Management Board. His professional career has been built in a number of roles, including member of the Management Board of Allegro and CEO of First Data Polska. The strategic vision of eobuwie.pl's development will also be supported by new investors. In July, the CCC Group signed an agreement with SoftBank (Vision Fund 2), a global venture capital fund. It joined Cyfrowy Polsat and A&R Investment (which partnered with CCC in the first quarter of this year) as the Company's investor. 
In view of the CCC Group's strong growth and to better respond to the expectations of its business environment, which have lately been changed by the pandemic outbreak, in autumn the Company plans to unveil an updated version of its Go.22 strategy.