Shopping online or offline – or why not both? Experience the convenience at over 750 CCC stores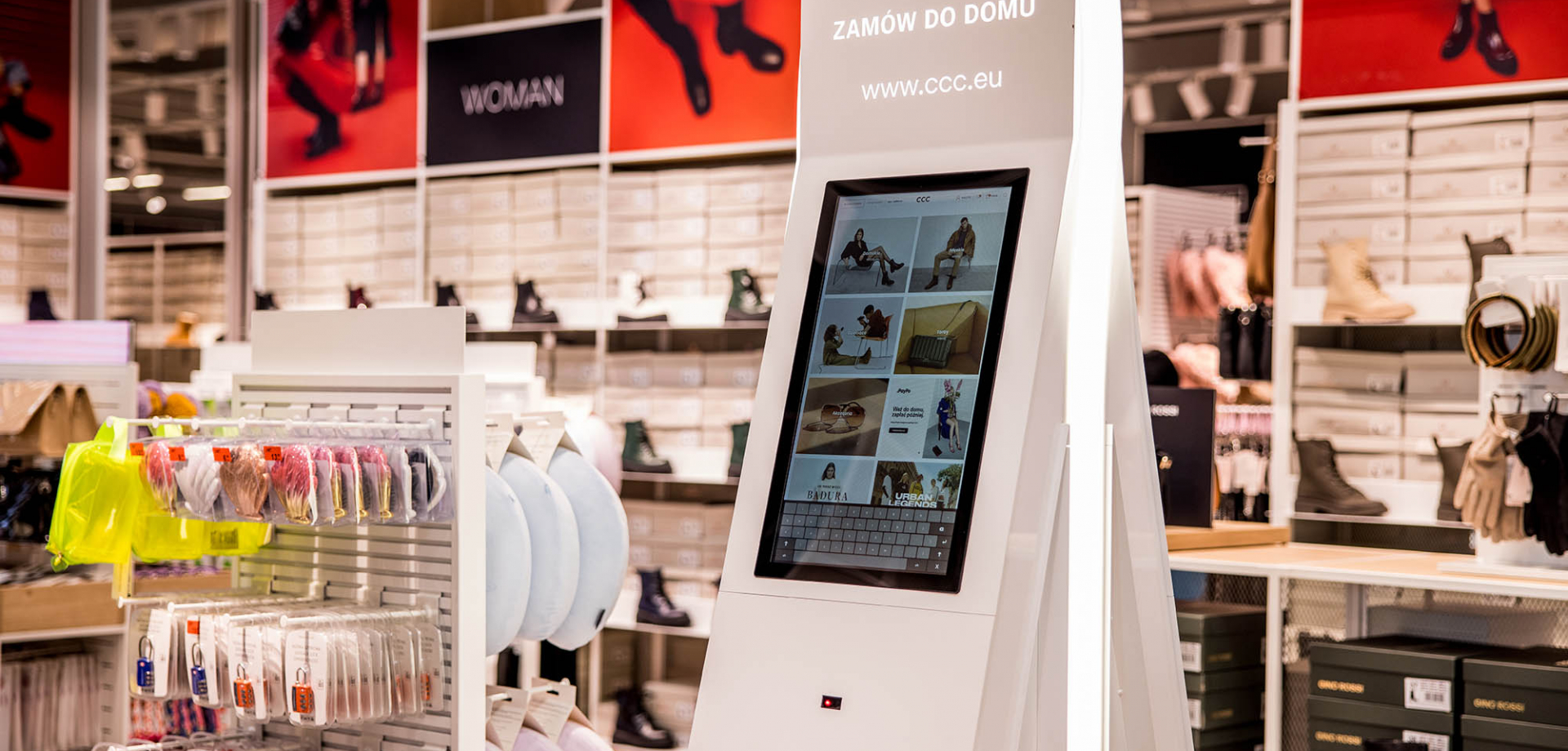 Until recently, our customers faced a critical decision: offline shopping with a specific range of products or an online shopping spree with an extensive variety and hassle-free delivery, though without the ability to try on the product before purchase. We have found a solution! Introducing our Online Kiosk in CCC stores, providing the perfect blend of online convenience with free delivery to your home, local store, or parcel locker during your in-store visit. It is our way of acknowledging and catering to customers who appreciate cutting-edge and use-friendly technologies that enhance their shopping experience.
During shopping, customers often come across their perfect product – excellent craftsmanship, the ideal colour, and plenty of styling options. The challenge? Sometimes the right size is simply not available in-store. Normally, you could opt to go to another store, wait for the next delivery, or go home to order online. But now there is another, much better solution. CCC provides a service that lets you order your chosen product, even if it is temporarily unavailable in the store, and have it delivered to your doorstep. What else does our Online Kiosk offer? 
Select, try on, and order to your home, store, or any other place of your choosing 
The kiosks and tablets in CCC stores enable you to check in just a few steps whether the product that has caught your eye is available in the right size in-store or discover more exciting products from our extensive online selection. If your desired shoes are in stock, you can try them on right away. If not, or if they are not the right size or colour, you can easily order them on the tablet or kiosk for delivery to your home, store, or any place of your choosing.  
Customers can also use an Online Kiosk to verify the size of the footwear they order using our esize.me foot scanning technology. This feature is available in CCC stores, and the scan can later be used during shopping, whether in an Online Kiosk, our mobile app, or the online store.  
"We strive to be present wherever our customers are, wherever they prefer to shop. As the lines between online and offline shopping blur, we take a step further and are connecting the digital and real worlds. We bring the diverse online shopping experience, praised by consumers, into our brick-and-mortar stores," says Jakub Grzelak, Managing Director of Retail at CCC. "This 'merging of worlds' benefits everyone. Online customers can now whenever they like enjoy physical interaction with products before ordering them with convenient delivery. Meanwhile, traditional shoppers gain access to our complete brand offering, which is not confined by shelf space. We have observed that this omnichannel offering is attracting more customers to our stores and the malls where they are located." 
The Online Kiosk service was introduced in CCC stores in 2020. Since then, as many as 750 stores in Poland, the Czech Republic, Romania, Hungary, Slovakia, and now Bulgaria, have been equipped with digital e-kiosks, providing access to CCC's full online range.  
"We launched the Online Kiosk service three years ago, and, seeing the opportunities it brings by merging the online and offline worlds, we will continue developing such solutions and lead innovation in omnichannel shopping," adds Jakub Grzelak.