Stranger Things star spotted wearing Sprandi clothes just ahead of new season premiere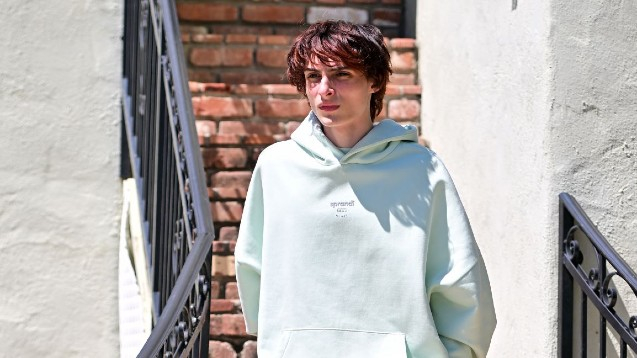 This is yet another time when the idol of the young generation is caught wearing clothes by this Polish brand! Finn Wolfhard, just ahead of the premiere of the highly anticipated season of Stranger Things, strolled the streets of Los Angeles in a Sprandi total look.
It seems that Finn Wolfhard, known to viewers across the globe for one of his leading roles in the Stranger Things series, appreciated the comfort and convenience of the latest Sprandi collection. The actor was once again spotted on the streets of Los Angeles wearing clothes from this Polish brand. In the Sprandi total look, he spent his free time just before the premiere of the new season of the Netflix hit.
Finn Wolfhard has already been seen a few times wearing Sprandi clothes, shortly after he began his collaboration with the brand. The actor is the face of the latest campaign for the spring-summer 2022 season. The Generation Z idol has joined the star-studded cast of the Take Care campaign, which also features '90s supermodel Amber Valletta and Kyle MacLachlan, who played the iconic character of Agent Dale Cooper in the Twin Peaks series.
The young actor liked the athleisure sets by Sprandi. In addition to comfortable tracksuits and sneakers, the Swim collection by Sprandi is also available, featuring summer essentials: swimsuits and shorts, towels, flip-flops and bathrobes. It was in pieces from the Swim collection that Finn Wolfhard appeared in the brand's spring/summer campaign, shot in sunny California.
Finn Wolfhard, beloved for his role as Mike on Stranger Things, has amassed more than 21 million followers on Instagram. Recently, the actor showed off the collaboration with Sprandi on his Instagram account, and his post was instantly liked by more than 1.5 million followers.
The Sprandi campaign has garnered praise from the fans of the series around the globe. A recent post by another star of the Take Care campaign also caused a big stir. With nearly half a million followers on his Instagram account, Kyle MacLachlan received numerous positive comments after publishing a post about his collaboration with Sprandi and a photo with Finn Wolfhard.
Sprandi clothes and accessories are available in CCC stores, on ccc.eu and in the mobile application.