MODIVO: THE FIRST STATIONARY STORE ALREADY OPENED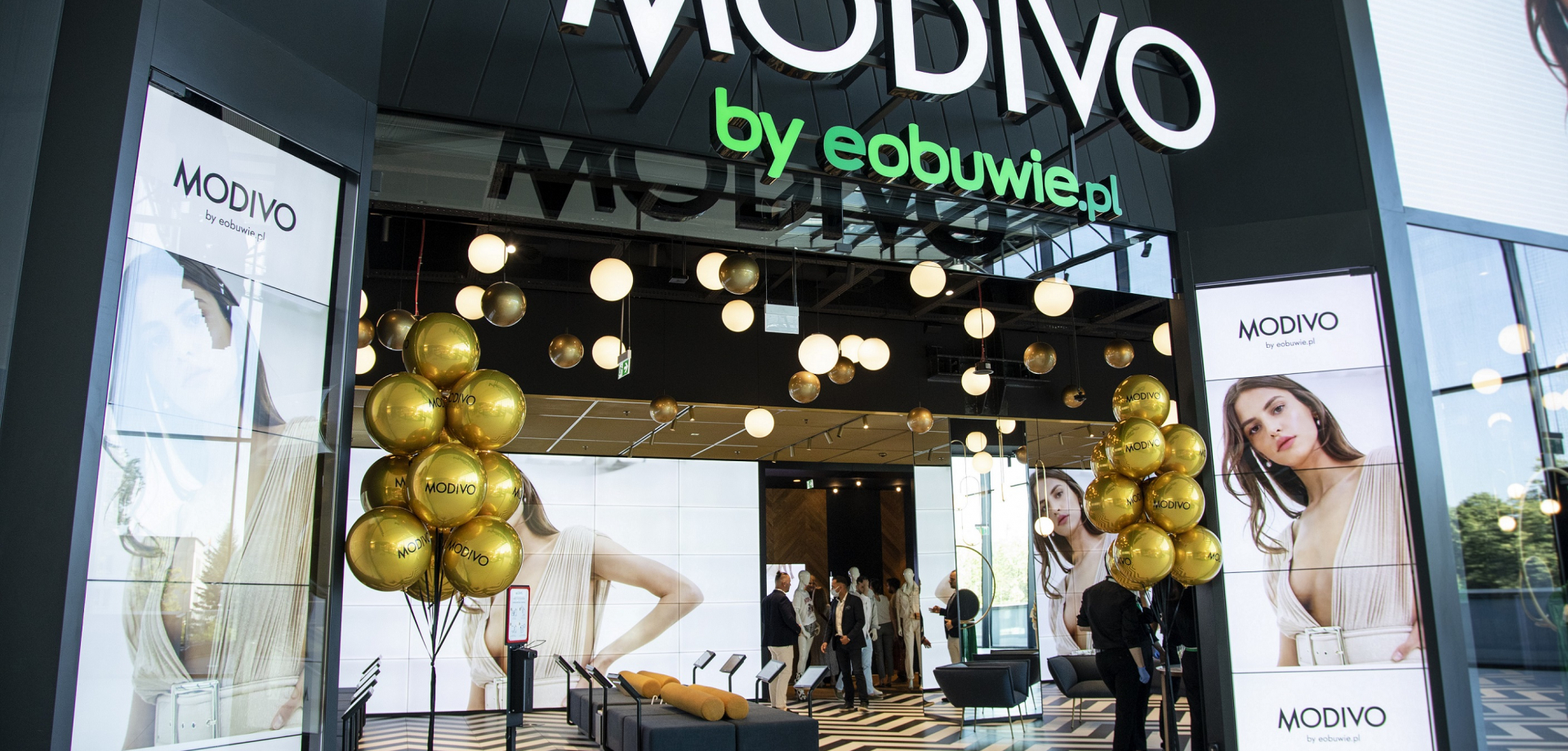 A modern, technologically advanced Modivo salon has been opened in Galeria Młociny in Warsaw (at level I). The offer of this e-commerce platform with premium fashion, belonging to eobuwie.pl, is now also available stationary. This is another journey from the online to offline world.
Modivo store is conceptually similar to what eobuwie.pl stores offer. The main focus was on customer shopping experience and premium service. Visitors will find many unique amenities in the fashion industry, including the ability to order items directly from the fitting room or digital product recommendations matching selected styles.
Eobuwie.pl launched its own e-commerce with premium fashion in March 2019. Currently, Modivo is available not only in Poland, but also on 10 foreign markets. Until now, the brand only functioned online. In development, Modivo eobuwie.pl focuses on reaching a new group of consumers and developing a unique customer experience. Hence the decision to make the offer available also stationary.
Innovations are our driving force. In the implementation of each subsequent project, we want to provide customers with new, unprecedented shopping experiences. We focus on full integration of sales channels. More and more customers value the quality of shopping experience at least on par with the products themselves. They appreciate technological innovations and consciously have their time. The technology influences their behavior more and more deeply - e.g. by shopping, browsing online store offers, comparing prices and viewing stationary products - says Marcin Grzymkowski, President of the Management Board of eobuwie.pl.
On two levels, over 2.5 thousand m2 of space and a dedicated mezzanine, 65 tablets are available for customers to place orders and view the offer. It will also be presented on 94 multimedia screens and mannequins in total. In one place, customers will receive a huge selection, along with shoes (eobuwie.pl store is located on the ground floor) over 250,000 products.
Thanks to new technologies, we will be able to provide our clients with a completely new shopping experience. They will be able to order products directly from the fitting room, they will also receive recommendations for products matching selected styles - adds Paulina Ciecierska, Marketing Director at Modivo.
The store offers top-quality service. Employees provide customers with help and advice at every stage of shopping. The role of the concierge will be important, who will firstly complete the order, secondly deliver selected products directly to the fitting room, and thirdly - advise on the selection.
Despite the difficult situation caused by the coronavirus pandemic and limited traffic in shopping malls, we were able to open the first Modivo store. The implementation of such an advanced project was a huge challenge for the entire team. It is a great satisfaction that we can present it to our customers. Now we will give them some time to get acquainted with this ultramodern project - sums up Marcin Grzymkowski.