Polish women have an average of 17 pairs of shoes, two-thirds of them have at least 10 pairs, and every tenth woman has more than 30 pairs - say the results of the latest study, which allowed us to look into shoe cabinets of Polish women and Poles
Polish women (women 18+) have an average of 17 pairs of shoes, and Poles (men 18+) 7 pairs. A statistical Pole has an average of 3 pairs of high heels, most often black and beige. In autumn, he most often wears boots or Chelsea boots. On the other hand, Poles prefer everyday shoes, all-year-round, often sports shoes. 2/3 of us declare that they have at least one pair of casual sports shoes and those intended for sports. These are part of the conclusions of the Polskie Buty report commissioned by CCC, the leader of the footwear sector in Central and Eastern Europe, carried out by the Zymetria analytical and research company, on a representative group of Poles. This is the first such study in many years.
When shopping for shoes, Poles are less and less guided by the weather, and more and more often by fashion and comfort. Poles are very familiar with the types of shoes. We prefer black shoes, white (especially in sports models), beige and brown (among low shoes) are also popular. Women most often choose black or beige high heels (75% and 31% respectively), while red is only in third place. More than half of us also have sneakers (53%) and shoes for active sports (as much as 63%) in their wardrobes. In turn, the most frequently worn footwear in the 18-45 age group is everyday sneakers.
According to the study, 2/3 of women buy shoes in sizes 37-39, and 2/3 of men wear sizes 42-44.
The study shows, among others One very visible trend - Polish women, but also men in Poland more and more often, are putting more and more emphasis on having a wide selection of fashionable shoes in their wardrobe, in various styles and cuts, adequate to the occasion, the rest of the outfit or color. There is a growing awareness that shoes are the basis of good appearance - comments Michał Zgiep, Director of the Product Department at CCC.
Źródło: Zymetria, listopad 2020, realizacja online, próba N=800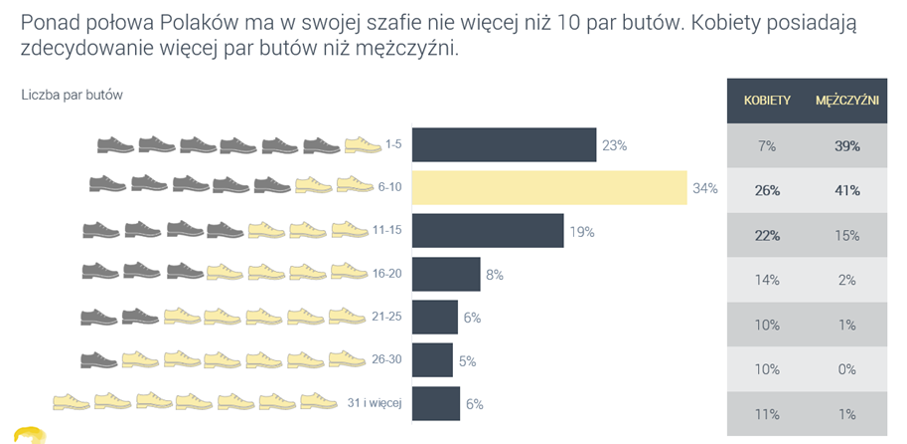 Źródło: Zymetria, listopad 2020, realizacja online, próba N=800