The CCC Group closes the first quarter of 2022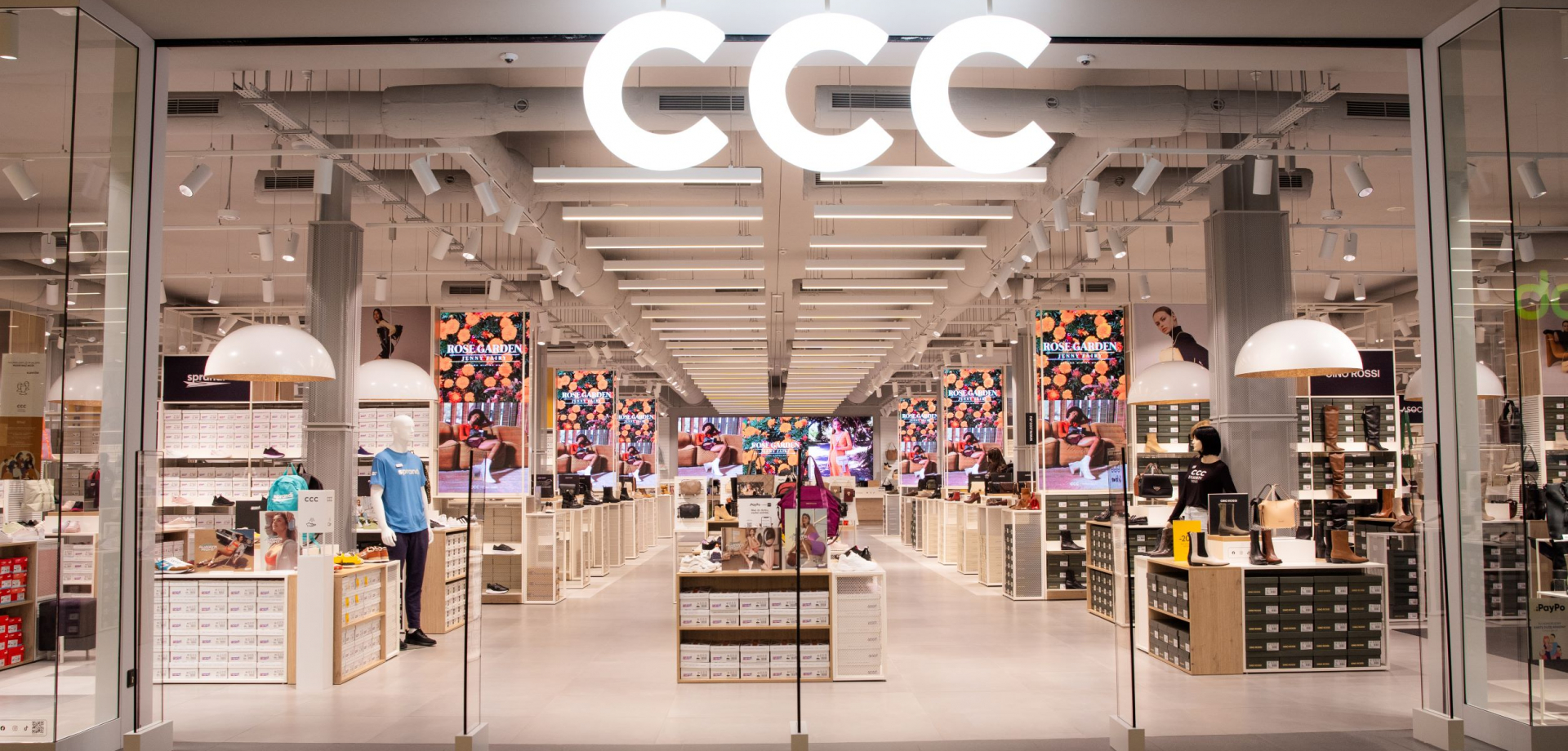 The CCC Group closes the first quarter of 2022 with revenue growth posted across all segments, another sharp improvement in gross margin and good reception of its spring–summer collection
In the first quarter of 2022 (February–April), the CCC Group generated revenue of PLN 1.9bn (+33% year on year). Strong growth was reported across all segments, both full-price and off-price. E-commerce contribution to total revenue remained strong (55%), and the MODIVO Group markedly stood out from competitors for sales growth (+19%) and EBITDA margin (6.6%). This past quarter saw another surge in the CCC Group's gross margin by +5.4pp, to 49%. Despite the persistently challenging business environment, the spring–summer fashion collection has attracted strong customer interest.
'This past quarter demonstrated we are capable of delivering growth despite the fast-changing business landscape,' said Marcin Czyczerski, President of the CCC Group Management Board. 'After a challenging February and first two weeks of March, retail demand began to stabilise, and April proved the best month of the past period in terms of sales. Despite the high base effect of last year, we have seen strong revenue growth (+35% year on year) in the second quarter. Moreover, sales growth in e-commerce has also accelerated quarter on quarter (+48% year on year). Also, gross margin has further widened year on year. We boast a powerful product range and strong recognisable brands, and we deliver engaging marketing communication campaigns. This makes us optimistic about the future.
In the first quarter of 2022, the CCC Group posted revenue of approximately PLN 1.9bn (+33% year on year). Online sales were strong again, accounting for 55% of the total (-7pp year on year). Strong revenue growth was seen across all segments of the Group.
The CCC business line booked revenue of PLN 780m last quarter, up over 42% year on year. Moreover, sales reported by the business line this year are 7% higher than in the same period of 2019 (a pre-pandemic period with a significantly larger retail space).
'This past quarter also saw a major progress in working capital optimisation. Inventory days in the CCC segment shortened by more than 20 days,' said Kryspin Derejczyk, Vice President of the Management Board, Finance and Accounting, at the CCC Group. 'One day of improvement in inventory days at CCC reduces working capital investment by PLN 5.5m. Therefore we are set to move forward with this initiative. Reducing working capital investment is our response to the unfavourable business environment, the rising interest rates in particular.
The HalfPrice business line, which celebrated its first anniversary in early May, is also growing fast, with its revenue at the end of the first quarter of 2022 at PLN 119m, accounting for 6% of the Group's total sales. The chain is now present on seven markets, operates 67 brick-and-mortar stores and launched HalfPrice e-commerce in Poland late last year.
DeeZee's turnover for the quarter was broadly flat year on year, at PLN 26m. The business line is focusing on expanding its apparel range and partnerships with marketplace platforms.
The Group's gross margin rose 5.4pp year on year and 2.3pp quarter on quarter, reaching a strong 49%. The growth was largely driven by an almost 9pp year-on-year improvement in gross margin reported by the CCC business line. The Group posted gross profit of just under PLN 923m (+49% year on year). In the past quarter, costs and revenue grew at a similar pace. SG&A costs fell by approximately PLN 25m (-3%) quarter on quarter.
The CCC Group closed the first quarter of 2022 with an EBITDA margin of 4.7%, an increase of 2.6pp year on year.
MODIVO Group in Q1 2022
In the first quarter of the financial year 2022, the MODIVO Group, comprising eobuwie.pl and MODIVO business lines, posted revenue of PLN 915m. With the reported growth in sales (+19% year on year) and EBIDTA margin (6.6%), the MODIVO Group by far outperformed its industry. In the reporting period, strong year-on-year sales growth of 68% (to PLN 162m) was delivered by the MODIVO business line, with revenue generated by eobuwie.pl at PLN 745m (+12% year on year).
'Since the beginning of the year, we have been fully focused on achieving the strategic objectives of MODIVO Group S.A. We consistently invest in furthering international expansion. We secured a foothold in new markets, the Baltic States, and we have established a team of experts responsible for strengthening our presence in key countries,' explained Damian Zapłata, President of the Management Board of the MODIVO Group. 'New ambitious challenges await us. We have commenced the testing of a marketplace platform, which will help us broaden our product portfolio and make it more attractive to customers. Also, we have launched an advertising offer for our partners in e-commerce and retail channels. Our priority remains to strengthen our technology resources and our technology team and to expand logistics capabilities, which are the key building blocks in the omnichannel model.
In the past quarter, the MODIVO Group generated a gross margin of 43.2%, up 0.1pp year on year. SG&A costs went up 32% year on year, mainly as a result of numerous projects to expand logistics, develop sales support systems and implement the marketplace platform. Quarter on quarter, the costs fell by around 10%. EBITDA was PLN 61m, with a 6.6% margin, which was in line with the GO.25 business strategy.
CCC Group joins further sustainability initiatives
Creating a positive impact on the environment, the economy and society is the CCC Group's commitment outlined in its GO.25 Sustainability Strategy. The company takes its own initiatives while also collaborating closely with leading international organisations that develop sustainability standards for the business community. The Group joined further major initiatives in the past quarter. These are:
The UN Global Compact – the world's largest network of nearly 15,000 sustainable businesses actively responding to existing and upcoming climate, economic and social challenges.
The Zero Discharge of Hazardous Chemicals Programme – this global initiative is guided by its mission to phase out harmful chemicals in the manufacture of materials used by the apparel and footwear industries.
The Fashion Industry Charter for Climate Action – sets out 16 climate goals that commit signatories to reduce greenhouse gas emissions across their value chains.
For more information about the CCC Group's sustainability initiatives, click HERE.